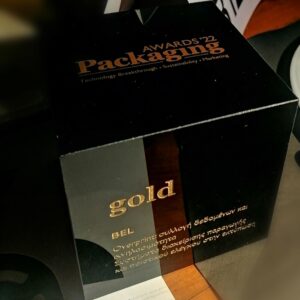 bel has won another Gold award, this time at the Packaging Awards 2022 organized by Boussias Communications, which validates the innovation that Overprint MIS provides by the utilization of technology and the added value it brings to the supply chain of products' packaging.
At the awards ceremony which took place on Thursday, July 7, the top packages of the year were awarded, as nominated by the judging committee, for their innovation in design, the materials used, the technology used, and the processes, which add value to the entire packaging chain of a product.
"bel, responding to market trends and the needs of its customers in Greece and abroad who have been trusting the company for more than 20 years, presents the new functionality in Overprint that covers the traceability of raw materials and finished products using portable terminals and advanced systems of data collection from production and warehouse sites, thus ensuring its customers the assurance of quality and safety standards", says Konstantinos Spyropoulos, Global Sales & Business Development Director of bel.
bel received the Gold award for Overprint's integrated solution on Data Collection and Traceability in the category of Production management systems and quality control in printing.
The safety and quality of food and pharma require a reliable traceability system from printing and packaging companies. Built with innate agility and extensive data management capabilities, Overprint MIS provides different ways to log material consumption and waste in production, either manually or through automated data collection terminals on the production floor.
Traceability is achieved via management by LOT numbers, barcodes and/or RFID tags, and through data collection devices that replace the way data is logged and verified, with quality assurance and automation in warehouse and logistics processes. Automation can be achieved by applying Industry 4.0 and JDF standards to the print lifecycle.
By leveraging the capabilities of the internet, continuous connectivity and information exchange are enabled. The digitization of processes and workflows allows a business to exchange information more efficiently, empowering the interaction between people and equipment. This increases overall efficiency, enabling service delivery at speed, ease of access, and convenience.
The derived benefits of the integrated solution on Data Collection and Traceability provided by Overprint MIS, are increased production efficiency, elimination of bottlenecks and human errors, increased quality, and savings of time and manpower.
The solution is in operation at print and packaging companies that own Overprint MIS.